Naomi & Jordan Buys Datca 2023
The rumours have been flying around for a while now about this relatively new climbing mecca – huge pitches of soaring tufas on perfect orange limestone, close to idyllic beaches and with plenty of cheap accommodation. Sounded like our cup of tea!
After an uneventful flight to Dalaman, Jordan enjoyed joining the wacky races of Turkish driving again (he got right into the swing of this on our previous trips to Geyikbayiri) and we meandered our way down the peninsula past Marmaris towards Datca. We got super lucky with our apartment, which was located in the quiet development of Kizlan with a gorgeous sunny garden and a suitable number of resident cats for us to temporarily adopt!
There are a few different crags in the area, but the main attraction is the huge cave of Can Baba, so of course we had to check that out as a priority on day 1. We were blown away by the awesomeness of the crag and immediately laid designs on all the routes we wanted to sample through the holiday. We thought we would ease ourselves in gently…. However, it turns out that spending a winter bouldering on UK rock doesn't exactly translate to being fit for 40m tufa wrestling. I got a full body pump on a route called Ustsuz – I onsighted the 7b bit without too much fuss but then red-lined when fighting to the chains on the 7b+ extension. The next day I could hardly walk! It might be the first holiday we've ever had that required a rest day after only one day's climbing.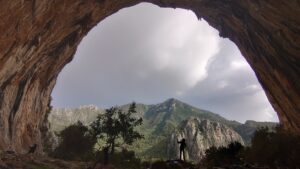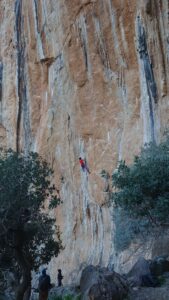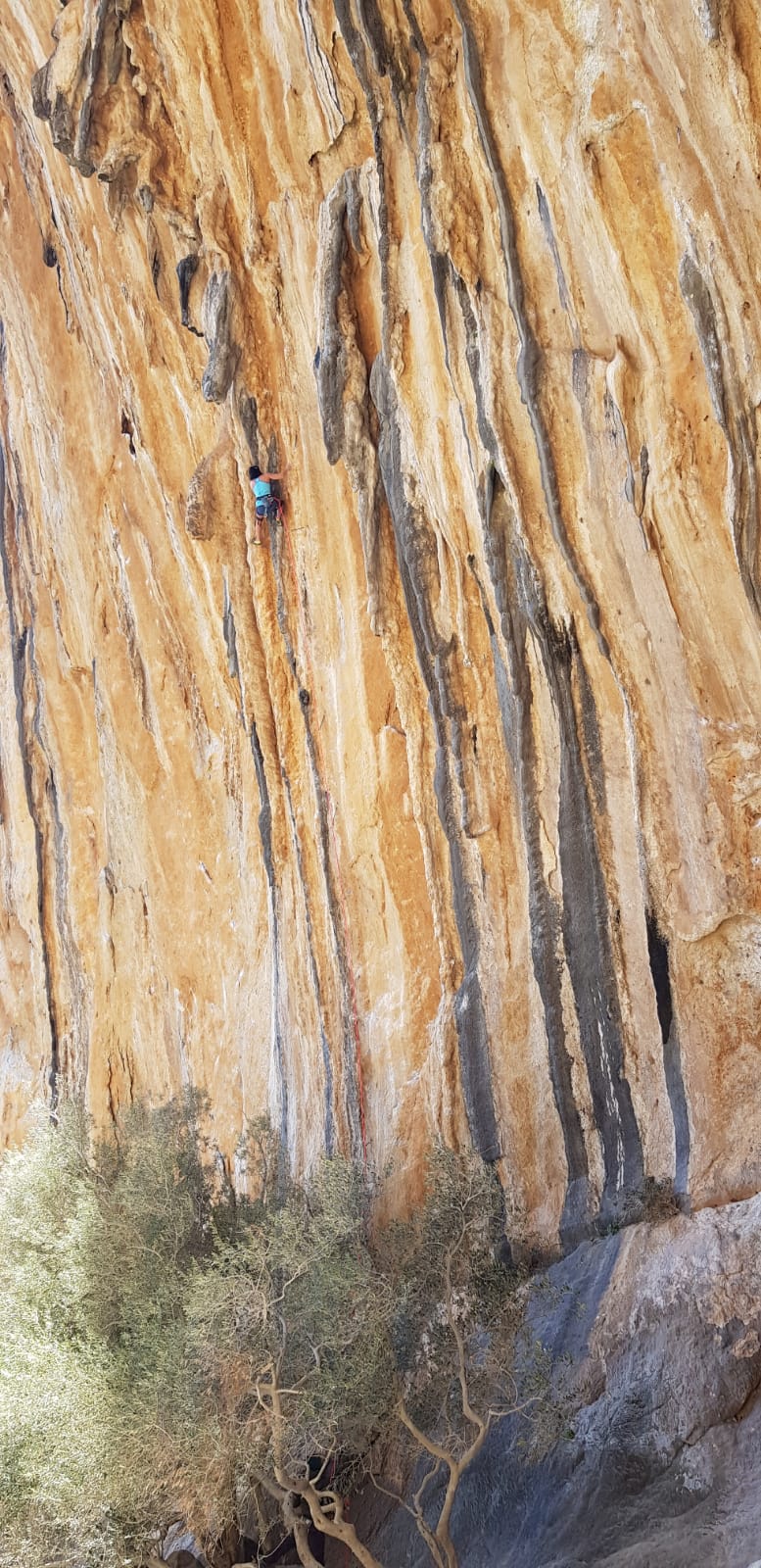 We explored some other venues and really liked Balik, a short, steep crag which was more suited to our puny endurance. After a few mid 7's to warm up, Jordan flashed a cool 8a called Lambuka. I felt close to getting this but ripped a gory flapper that stopped play. As it worked out, we didn't go back there because we suddenly felt just about fit enough now to return to the main event at Can Baba. Next trip we will return to Balik for sure.
Our goals for this holiday were to have fun by doing lots of onsighting and relaxing, in contrast to our usual style of getting too focused on hard projects. I allowed myself to shop around for one 8a only – the Balik route was great but at the wrong crag, then I briefly played on one called Helmut and Katana but to be honest it was a bit of a nasty sequence (much easier if you can reach through the crux, or do a double dyno like Jordan did!!) so I didn't persevere with this. I eventually settled on a varied route on the right-hand side called Mediterranean Dream. This turned out to be a super pleasant experience – challenging and interesting but fairly quickly despatched, leaving plenty of time and energy spare for mileage on the many lower grade classics.
Jordan likewise allowed himself one 'hard' project. He was instantly inspired by the funky shapes and 3-d acrobatics required on Big Can Baba 8b+, the practically horizontal roof extension to the popular 6c+ warm-up. He swiftly worked out the 'boulder problems' between the kneebar rests, all except for the spicy run out top section, it was just a matter of stringing it all together. A few redpoints later, all the climbers at the crag watched with breath held as Jordan fought his way to the last rest, clearly completely boxed out of his brains, desperately trying to get something back but elbows up by his ears…. We were willing him to find his way to the chains and all felt his despair when he took the huge whipper into space from far above the last bolt. Needless to say, another rest day was required! Thankfully, a day on the beach swimming and playing with cats did the trick – Big Can Baba was soon successfully ascended and Jordan could relax. He managed the perplexing La Franchise des Vieux 8a by means of a sideways toehook into Dyno combination, then did Mediterranean Dream (not without some drama!).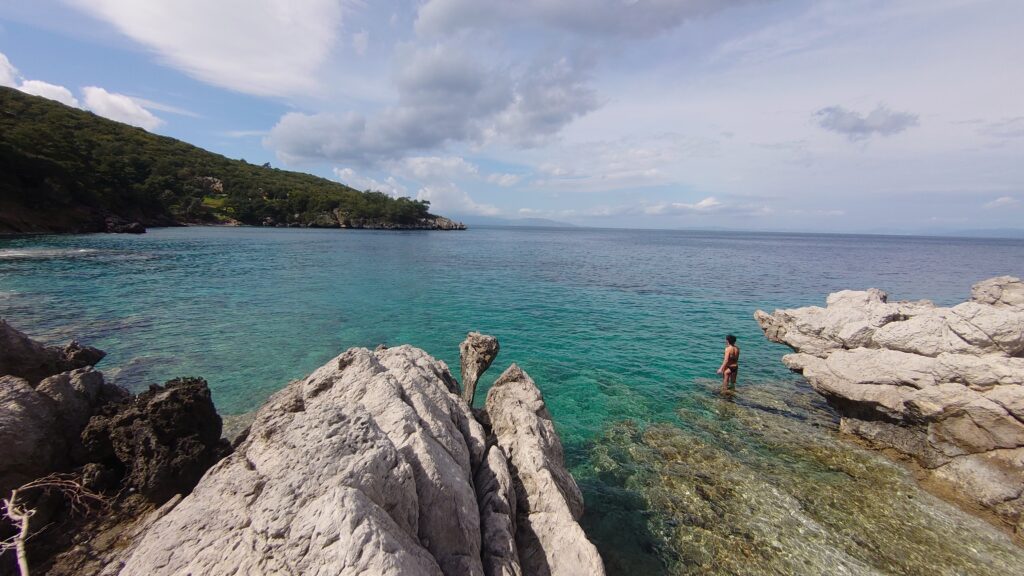 My secondary goal for the trip was to not get injured. I kind of achieved this, but I did wake up on our last morning with an incredibly sore right arm – for some reason I couldn't straighten it or lift my arm without a lot of concentration and mind-over-matter. This was not ideal as I had planned to go 'a muerte' doing as many routes as possible before having to leave. After a tentative slab climb to warm up, I took the tactical decision to just push on through the pain and force myself to climb. I picked a tufa intensive 7b+ called Il Giardino del Sirena that looked like I could kneebar my way up rather than being on my arms. Lo and behold, it was my smoothest onsight of the holiday! So I then jumped on a 7c on the right (Rockumantary) that our friend Karl recommended. I blew the onsight but sussed it out and did it next go – great route with lots of kneebars to break up the tricky sections. Jordan then flashed it casually of course. What a fab end to the trip!
Another bonus for travelling to Turkey is the local culture. The people are so friendly and the food is delicious (and generally very cheap). We recommend the special kadana kebabs and also pide, the Turkish version of pizza.
Lots of the lovely climbers we met in Datca were on very long trips, including one amazing couple who had even cycled there from France. As we were contemplating flying home to cold, damp Britain, we could definitely appreciate why so many have chosen to make Datca their base. We will certainly be returning, especially as Jordan wants to check on how his favourite holiday cat is doing!